Decorative Concrete
Acid Stain
Kemiko Concrete Stains dealer
Davis Block & Concrete is a dealer for Kemiko concrete stains.
We stock a wide variety of products at our Kenai showroom.
Stop by today for more information.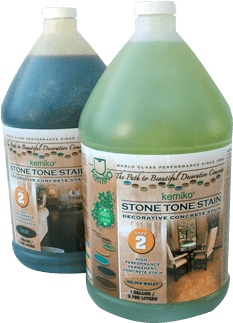 Kemiko Stone Tone Concrete Stain:
Is an acid base, reactive stain. This interior/exterior reactive stain is zero VOC, UV resistant and will not chip, fade or peel.
Stone Tone Concrete Stain is formulated to chemically bond with the concrete to create permanent, unique colors that simulate the look of natural stone or marble.
Stain colors are concentrated and can be diluted with water to create variations in color intensity.
HOW TO ACID STAIN CONCRETE in five easy steps
Step 1:
Clear debris and clean concrete surface.
STEP 2:
Apply two coats of concrete acid stain color.
STEP 3:
Neutralize acid stain and remove residue.
STEP 4:
Apply protective sealer.
STEP 5:
Clean and wax regularly.
Kemiko Stain Color Brochure
Visit www.kemikostain.com for more information.